---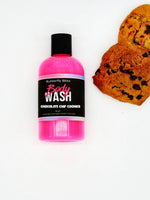 Chocolate Chip Cookie body wash smells YUMMY. This reminds me of fresh baked gooey cookies fresh out of the oven. This wonderful aroma of freshly baked cookies with base notes of semi-sweet chocolate and vanilla. I am getting hungry just thinking about it! The perfect bakery scented soap! It has everything you need minus the calories! As good as it smells I can promise it wont taste that way! But it will be so hard not to eat it. Your friends and family will be asking where you got this scent I can promise you that!

After numerous requests I have finally decided to add body wash to my product line! I know you will love it just as much as I do. If you are looking for the perfect body wash this is it. My body wash not only lathers well but also provides numerous bubbles and helps your skin soft and moisturized.

This listing is for one 8 oz bottle of body wash. Please check out my other body wash scents! I will have a lot of fun scents to choose from. I am sure you will find the perfect scent that you will love.

The ingredients in this body was are
Purified Water
Coconut Oil
Sodium Chloride
Sodium Laureth Sulfate
Cocamide Dea
Glycerin
Sodium Cocoate
Sodium Myristate
Cocoamidoproply Betaine
DMDM Hydantoin
Citric Acid
Fragrance Oil
Mica Powder for coloring

Please check out my other listings here
www.etsy.com/shop/butterflyblissshop

Because of the nature of this product I do not accept refunds. If there is a problem in anyway please let me know and I will do my best to resolve the issue.

I also accept custom orders. If you have a scent in mind please let me know and I will let you know if it is something I can do.